Get everything mentioned for HIM

but A bigger teddy, a bigger bouquet :P

In addition, you might get a necklace shaped 3la heart aw key
(as in key to my heart) <---- for the guys to get it
Heres what I found in stores:
These necklaces are by Juicy, they're KD23 each.. They're pretty but the flowers look cheap so I suggest replacing those flowers with real roses ;P
B3dain I remembered tiffany have those key necklaces, bs 7safa they're all sold out
They did however have a veryyyy nice ring with ruby and diamonds 3laih 20% discount, it becomes KD1,500 ..7daa 3jeeb i forgot to take a pic. I loved it very very muchh ;x
I found a pic! *takes a deep breath* isn't it gorgeous?????!! You have to see it in person!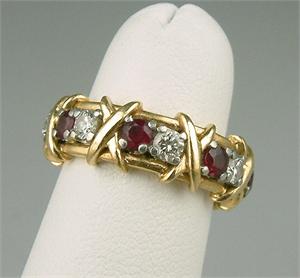 ok lets move on... alot of stores are celebrating valentines,one of them is burberrys
Bags, wallets, belts,notebooks (shda3wa notebook KD100+), shirts.. I thought they all looked
C h e a p.


and if shes into computers or is in uni, you might want to get her a heart USB from swarovski

anyway end it your way, do something creative, draw her a picture, write her a love letter, think of something! we girls love these sweet stuff


I want to know what was ur fav. v-day gift?? I might post mine ;p